Return to Headlines
BMHS Career Academies Provide Students with a Head Start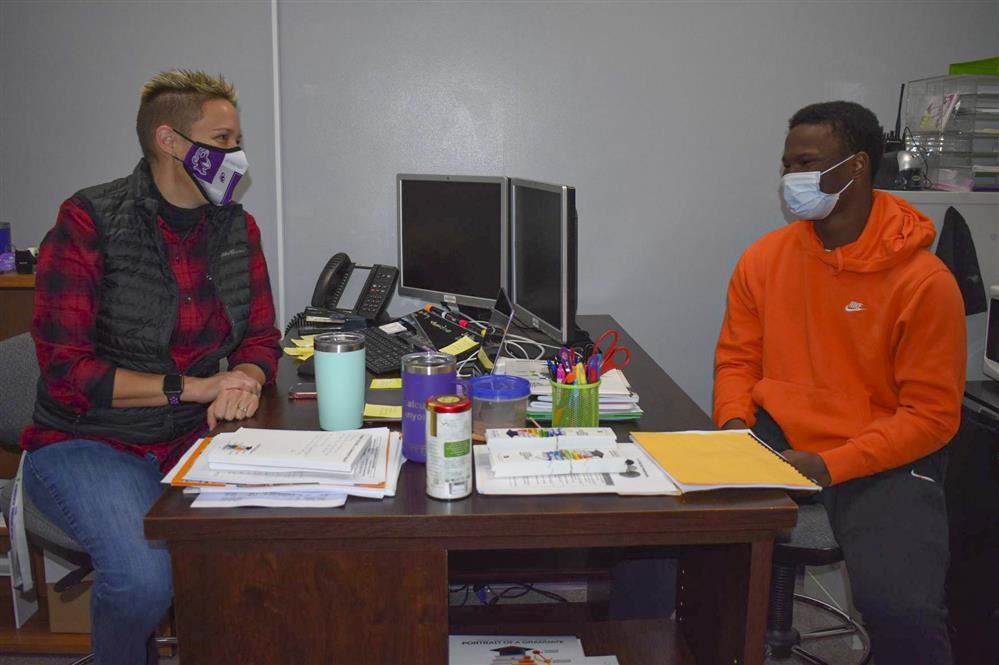 BELOIT—The School District of Beloit is moving into the next phases of the development and expansion of the Beloit Memorial High School (BMHS) career academies.
Students will have additional work-based learning experience and by the time they graduate they will have either industry certifications or college credit and an understanding of which careers they are interested in pursuing, according to Career Academy Coach Deb Prowse and Chief of Communications and Marketing Monica Krysztopa.
"We want them career, college and community ready," Krysztopa said.
"So many people in our community have stepped up and said they want to help. People are willing to help us do it and do it well," Prowse said.
In September, the Greater Beloit Economic Development Corporation (GBEDC) signed on as the community convening board for the academies. In its role, the GBEDC will be the conduit to forge a strong relationship between the district, city and business community. Plans are to expand the network and therefore offer more opportunities for students to connect with the business community.
"Strong school districts and schools add significantly to a community's ability to sustain an able and ready workforce and a future workforce pipeline. To create long-lasting and stable economic growth in our region, we must continue to collaborate and engage with our school district and students. I value the work that is being done at the School District of Beloit and the development of a 'Portrait of a Graduate,'" said GBEDC President and CEO Jen Hall.
A newly appointed steering committee was established in September to track data to ensure the academies are staying on track with goals and objectives, and advisory boards for each academy have been set up. "Our goal is to have advisory boards for each academy so teachers can easily partner with business professionals. Those boards are also designed to help us understand what our community needs," Prowse said.
Freshman year is considered an exploratory academy to help students choose the career pathway they wish to pursue the remainder of their high school career. The school has the business, arts, communication and hospitality academy (BACH); and health, human services and education services (HHES) and public service, automotive, construction, manufacturing, engineering and science (PACMES) academies.
Students take their core academic courses within their academy so each course has relevance to their career pathway. They also take three consecutive courses geared towards a particular career pathway during their high school career. Students are also free to take courses within other pathways to explore possibilities and see what they enjoy or don't enjoy doing. "It's not limiting. It's guiding," Prowse said.
Senior Ridhwan Ganiyu, for example, is in the PACMES academy, but took advantage of courses in BACH, discovering he wants to pursue a career in business and finance.
Last year, he was part of a competition on entrepreneurship and came up with the idea of providing personal protective equipment (PPE) products such as masks and hand sanitizer in vending machines in airports, hospitals, hotels and other places at an affordable price.
He said the academy system has helped him branch out and have an organized way to explore his career interests. "I want to pursue something in finance and become an entrepreneur. I want to pursue multiple streams of income," he said. Ganiyu said he tells students they should 'buy into' the academies. "If we do that, we can have an idea of what to do in the future," he said. "The goal is to get things figured out by the time we get to college."
Ganiyu and other students shared their experiences in a Nov. 30 master planning committee meeting with staff, parents and a wide array of community members. Two more of the planning sessions regarding how to move the academies forward are scheduled including a meeting on Jan. 25 and a February meeting to finalize the plan.
Meanwhile BMHS Principal Emily Pelz, Krystopa and Prowse have been out in the community presenting to boards and organizations such as Visit Beloit, the Beloit Rotary, Greater Beloit Chamber of Commerce and other entities about academies and will be continuing to reach out.
A guiding directive in the plan is helping students reach some milestones laid out in what is known as a 'Portrait of a Graduate' meaning each student will reach goals such as becoming a resilient leader, critical thinker, effective communicator, fearless learner, ambitious innovator and global contributor.
Prowse, who taught math for 30 years, said she feels fortunate to work with BMHS on the academies. "Our teachers are amazing with the support they have given me and have put me in touch with businesses and nonprofits. This is a school-wide adventure and I could not do what I do without every teacher in this building stepping up and helping me. I'm incredibly grateful to teachers and administration, for support within the building and the community."
Source: Beloit Daily News