Preventing Behavioral Health Problems
Department of Public Instruction AODA Grant

"Leading the Way, Stronger Together"

The school district partnered with Youth2Youth 4 Change in this endeavor to address prevention and decrease the use of alcohol and other drugs.

Youth2Youth focused on the "Most of Us" campaign. The campaign included students creating messaging designs and memes. The designs ran on banners, buses, posters and stickers. There were also presentations done in all of the schools throughout the district.
At the intermediate level, 7th grade students completed a six-question screener that asked about alcohol/drug use in the following situations: Car/Relax/Alone/Forget/Family/Trouble (CRAFFT). Students identified met for a more in-depth one on one to create a change plan to reduce their level of risk.
Beloit Learning Academy (BLA) also utilized the CRAFFT
BLA staff participated in a Professional Learning Community investigating and building skills to support "motivational Interviewing."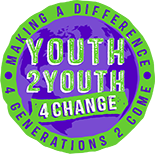 Youth 2 Youth for Change

Students reach out to the peers through lessons in health classes. Please

click here

for the Y2Y website.

Some of the activities Y2Y engage in include:

Advocacy - Above the Influence and Most of Us campaigns
Pre prom event
Other substance free events to encourage being above the influence
Screening Brief Intervention Refer to Treatment (SBIRT)

Once a student has been identified as abusing substances, the student will undergo intervention including motivational interviewing and self-reflection to empower them to change the behavior.