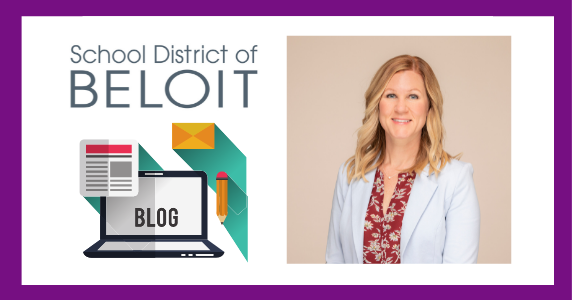 Ms. Emily Pelz
Principal, Beloit Memorial High School

April 2022 - BMHS Newest Collaboration with Jobs for America's Graduates

Collaboration with Partners is Key
At Beloit Memorial High School, we are always looking for ways to collaborate with partners and organizations to enhance our students' high school experience. Our number one goal is to graduate all of our student's career, college, and community ready.

This means that students need more than to meet the credit requirements for a diploma to be successful; they need to acquire life skills that will set them up for success in any situation. This is especially true for those students who face challenges or barriers in their education that put them at risk of falling behind or becoming disconnected from school.

Jobs for America's Graduates

Jobs for America's Graduates (JAG) is new to Beloit Memorial this school year. Our collaboration with JAG is exciting for our school, students, and District. JAG is a state-based national non-profit organization dedicated to supporting young people of great promise. JAG's mission is to empower our nation's young people with the skills and support to succeed in education, employment, and life.

JAG is an opportunity for our students to receive ongoing academic, social, and emotional support and to connect with our business community and higher education partners. JAG is also a perfect complement to our current Academy structure, enabling students to benefit from the added element of mentorship JAG brings.

According to the JAG website, the JAG Model consists of a comprehensive set of services that improve student success rates in education and career. These services include classroom instruction, project- based learning, advice and support, employer engagement, student-led leadership and development, 12-month follow-up services, accountability, and more.

The JAG Board of Directors is comprised of leading Governors, C-Suite Executives of the Fortune 500, and National Community Leaders.
Impressive BMHS Students
JAG is helping an impressive group of BMHS students in guiding, encouraging, and supporting each participating student in meeting their postsecondary goals and dreams. Our inaugural JAG members include Jayda Bardell, Ciara Cain, Marquez Quince, Jeremiah Farley, Alasia Hale, Alju Howard, Patience Hughey, Mya Lund, G'yauna Morgan, Reannah Polk, and Emma Watson. With the support of Forward Service Corporation, Wisconsin Department of Children & Families, Governor Tony Evers Office, Wisconsin Literacy, and Representative Mark Spritzer we honored these students during a ceremony last week.
#GoodThingsHappening
We continue to share the outstanding accomplishments of our BMHS students. We know them to be fearless learners, ambitious innovators, global contributors, resilient leaders, critical thinkers, and effective communications. With our affiliation with JAG and their mentorship, soon many, many, more people will know what we already know - our students are career, college, and community ready.