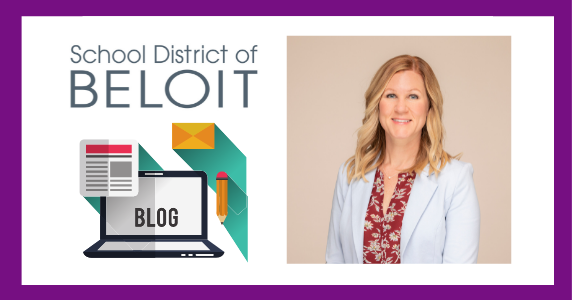 Ms. Emily Pelz
Principal, Beloit Memorial High School

June 2022 - Class of 2022 Graduation Speech
Live with Integrity and Follow Your Passion

Class of 2022, today marks a significant and hard-earned milestone in your life. As you sit here anxiously awaiting the opportunity to walk across this stage, I want you to intentionally take this moment in. Look around and see your friends, family members, teachers, and any other significant person here to support you on this very special day.

I would be remiss if I did not acknowledge this fine audience because, seniors, as much as this day is about your accomplishments at Beloit Memorial High School, you would not have made it to this moment without all of the love, encouragement, and support of those around you. Think about those special people in your life, recognize those who are with us here today, bursting with pride, and let's give them a huge round of applause for supporting you through this amazing accomplishment.

Graduation is a time to celebrate the culmination of your educational experience and accomplishments thus far. It is not the end; it is the beginning of a new, perhaps even more exciting and unpredictable journey that will open new doors for you and lead you to the next steps in your life.

Your four years at Beloit Memorial High School have prepared you well for the next journey you are about to embark upon. Whatever course your future takes, you can expect that it will be different from your current reality.

We are no strangers to change, and no one knows what tomorrow may bring. We have all witnessed how easily our lives can be altered. Still you have demonstrated perseverance and resilience, and it is my hope that you will apply the skills you have learned over these past four years to meet and deal with the changes and challenges that life will continue to present. 

You've grown into confident young adults with significant things to say and special talents to share. Your high school years have provided opportunities for you to learn your strengths and weaknesses in unconventional ways, and you have been placed in situations that have made you push boundaries and forced you to take risks. You have discovered a lot about yourselves, matured, and are ready to leave your mark on our future world. I can promise you that your most rewarding days are yet to come!

Today we commence together, but you all have your own plans that will take you in different directions. Some of you will continue your education at a college, university, or technical school. Some of you will begin cultivating your passions through a career or trade, and others will enter the military. No matter what you have in store for your future, I encourage you to dream big but focus on your small personal wins.

Set goals for yourself and actively take the steps necessary to achieve them. Be a risk- taker and balance your dreaming with actually doing. Live in the present and make every day count. As you progress in life, continue learning and discovering ways to contribute to society. Be open to others' ideas, accept "different," and embrace the unknown. Capitalize on the enthusiasm you feel in this very moment and use it to propel your future successes.

As you go forward, remember to be true to yourself and know your worth. Live with integrity and follow your passion. When the going gets tough, stand up for what you believe in, and when you need a support system, think about those who are here for you today. Keep pushing forward with great determination because you are worth it, and I know you can achieve your dreams.

Class of 2022, this is your day to celebrate!

Congratulations and good luck with all that is ahead of you.