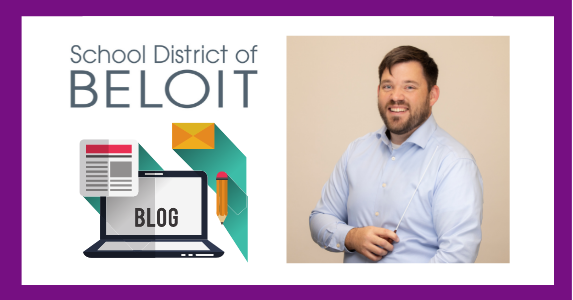 Mathew Anderson | Choral Director | Beloit Memorial High School

March 2022 - Music, the Sound of My Heart

The Connection to Music Takes Many Shapes
From singing in the shower to playing the tuba in the back of the band, to drawing a fiery note from the cello to belting a passionate solo in the full lights of the stage - the connection to music takes many shapes. Music in our Schools month is a moment to celebrate the wonderful joy of teaching the whole student through music.

In music education, we can make connections and draw people closer together. By exploring not only how to perform a piece of music but how to understand the culture, the performers, and the emotions that come with it, we are able to find similarities to not only other cultures but to our peers and other time periods. Through our voices and our instruments, we learn values like hard work, dedication, teamwork, physical skill, and focus (to name only a few) while also challenging ourselves to perform with passion.

Music Fosters a Growth Mindset
Music education is as much about teamwork as it is also about individual work. It fosters a growth mindset and a spirit of adversity and grit vital to our student's success when they leave the School District of Beloit. These skills help us teach the whole musician - engaging the entire brain through physical and mental work, encouraging a goal of constant self- improvement rather than the minimum for an "A," and working to see that ALL students have access to music. Furthermore, the combination of a group of students coming together to do something larger than themselves fosters a well-rounded and collaborative graduate.

The benefits of music in our schools are apparent and reach many. We know students involved in music perform better in their testing. We also know that Social and Emotional Learning (SEL) is intertwined into the foundation of arts education. By encouraging student self-expression through music, exploring cultural and historical connections, connecting with their peers, their school, and community, and exploring the myriad forms of expression and communication, we can teach the whole student and support our students to become the best version of themselves.
Preparing Students for a Bright Future
All students deserve the right to a music education that encourages their growth, inspires their expression, and connects them to their peers, community, and the larger world. By exploring these connections and fostering these skills, we prepare our students for their future. Music education does this in a way that is unique and streamlined.
Become Involved – Support our Music Program
Many concerts are approaching in the next few months. To help support the music program and ensure all students have access to music, there are many ways you can get involved, including:

   • Attending concerts
   • Encouraging your student to explore choir, band, or orchestra
   • Attending the many musical theater performances in our district
   • Reaching out to your principal, administration, and our School Board to voice your support for our music programs
   • Getting involved in booster organizations like PAPAS (Parent Advocate for the Performing Arts in our Schools)
   • Connecting with your student's music teacher.

 My hope is that Music will be the sound of your heart, too.