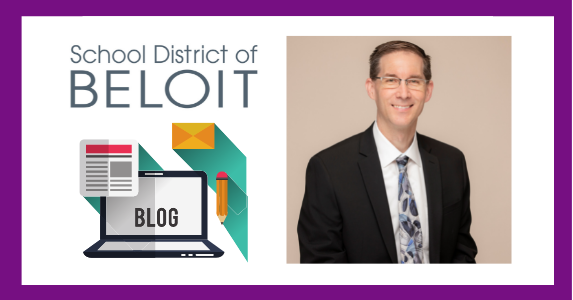 Dr. Dan Keyser
Superintendent, School District of Beloit

June 2022 - Class of 2022 Graduation Speech
Life is Full of Moments and Living Life is Full of Infinite Possibilities

Good Afternoon Students, Families, Staff, and Guests.

Welcome to the 2022 graduation ceremony. We are here to honor our seniors who are about to step across the stage, receive their diplomas, and walk into their future. It is a pleasure and a privilege to address and celebrate the class of 2022. Can we take a moment and give these students a round of applause?

Everyone here today is proud of each and every one of you and all that you have accomplished these past four years. They are your support, your encouragement, and your nudge when you need it. I ask that the class of 2022 take a moment and look at the audience assembled here today. You see your family, friends, neighbors, and those who have impacted in your life; this is your community. Those who have been there for you to celebrate your successes and accomplishments, and support you through your challenges and tribulations. I ask that our seniors give all of you a thankful and grateful round of applause.

Class of 2022, you have arrived at a place in your life where you are transitioning to a new path and journey. Receiving your diploma and graduating from high school is an accomplishment and deserving of the recognition and honor we bestow upon you today. Today is a moment in your life that you will remember forever, a moment of significance and celebration. Embrace it!

Please take a deep breath in, pause and exhale. You made it! You are here today to graduate. You have overcome challenges, including a pandemic, with resilience, perseverance, and tenacity. Those life skills will serve you well as you leave here today. Life will be full of moments that require you to use your skills and intuition, and your choices will impact your path forward.

I ask that you now close your eyes for just a minute or two. Does everyone have their eyes closed?

I want you to take a moment and see yourself walking down the halls of Beloit Memorial, coming and going between classes, activities, lunch, and more.

I want you to see yourself saying hi to your friends as you pass them by. I want you to see yourself walking into your favorite classroom and greeting your favorite teacher. I want you to see yourself participating in your favorite sport – cheering on your teammates; or performing with the band, orchestra, or choir; or performing on stage during a play or musical; or handling all the technical coordination that goes into any sporting event or performance.

I want you to see yourself participating in your favorite club or activity, creating art, or writing a speech for an upcoming election. I want you to see yourself spending time with your friends. Laughing and sharing stories. I want you to see yourself at your best, doing what you enjoy and love.

How did those moments make you feel? Happy? Invigorated? Encouraged? I hope so. I want you take all those feelings with you as you begin a new chapter in your life. Take the best of what high school was for you and bring that with you as you move on to a career, military service, advanced training, or college.

Yes, reflect on those moments and plan for your future. All of those moments, including today, make you who you are. Life is full of moments, and living life is full of infinite possibilities. It can be written and rewritten. Your life is not defined for you, but you define your life. You are prepared and ready to pursue your future goals using the skills and lessons learned over the past four years. I know that I am grateful that all of you will be in this world making a difference as you pursue your dreams, plans and goals.

Along your life's journey, always remember that you are a Beloit Memorial Knight. You embody the characteristics that describe a Knight:

Servant Leadership: willing to serve others;
Kindness: being generous and considerate of others;
Humility: building others up; Honesty: telling the truth;
Self-Discipline: controlling one's feelings and overcoming one's weaknesses; and
Excellence: being outstanding.

In today's world, we need more Knights like you more than ever before. I will say that again. We need more Knights like you more than ever before.

I commend your willingness to serve others through your community involvement and volunteerism. I am in awe of your consideration, support, and concern for your classmates, families, and friends. I am grateful for your ability to build others up. I am thankful for your truthful and courageous conversations. I challenge you to go out into the world and share what you have learned as a Beloit Memorial Knight. As Gandhi said, Be the change you wish to see in the world.

Thank you so much for the opportunity to speak to you today. Please do not be a stranger; come back and visit often and keep us updated on journey in life.

The world is waiting for you! Congratulations to the Class of 2022. Together we will always remain #BeloitProud.