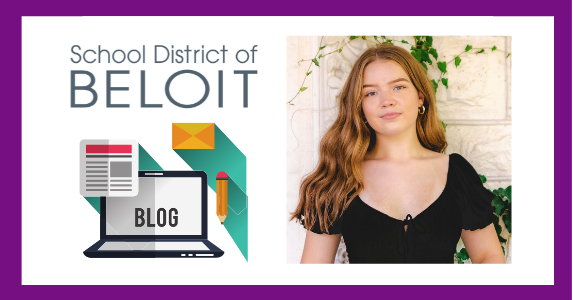 Ms. Natalie Bosco
Beloit Memorial High School 2022 Graduate, BACH Academy
SDB Communications and Marketing Intern

June 2022 - Learning, Sharing, Engaging: My Internship with Communications and Marketing

What I learned Interning in Communications and Marketing
I was honored to be the first intern for the communications and marketing department with the School District of Beloit. This internship taught me many things that I will take with me to college and in my future career.

I learned the importance of details when promoting and working with others and graphic design do's and don'ts to ensure visually appealing materials that connect with the intended target market. Most importantly, however, I learned how to create engaging and relevant content so that people of all backgrounds can understand and relate to the message.

I was always able to share my ideas and thoughts, bringing a student perspective and voice in all that I worked on. I also concluded my internship with a portfolio of completed projects and work. My last assignment was to write a blog about the Academies at Beloit Memorial High School. As a proud 2022 BMHS graduate, I was happy to do so.

The Academies of Beloit Memorial High School
The Academy Program at BMHS is one of many opportunities that students use to accelerate their career, college, and community path by taking specific career-related and advanced classes. Our Academies are personalized small learning communities within our high school, involving a cohort of students and a team of teachers. Each Academy has a principal, an academy lead, and other adults assigned to help each student be successful.

Academy classes include both core academic courses and a sequence of career-technical courses. Our Academies provide students the advanced skills they need to be successful in college, career, and life by providing engaging, hands-on, relevant learning opportunities, developing small learning communities, and connecting with local businesses, post-secondary institutions, and community organizations. We have an Academy Coach who is responsible for our school's connection to business, civic, and community partners.

The Business, Art, Communication, and Hospitality (BACH) Academy is targeted towards students who are interested in or want to pursue a career in business, computer science, art, culinary, language, or performance.

The Health, Human, and Educational Services (HHES) Academy is targeted towards students who are interested in or want to pursue a career in early childhood education, helping and caring for others, or understanding how the body works.

The Public Service, Automotive, Construction, Manufacturing, Engineering, and Science (PACMES) Academy is targeted towards students who are interested in or want to pursue a career in public service, automotive, construction, manufacturing, engineering, or science.

During freshman year, students are placed in the Freshman Academy. Students take entry-level career and technical education courses, are exposed to our BMHS Academies, and participate in Xello activities. Xello is an engaging software program that helps students "build skills, knowledge, and plans for future success." In the second semester of their freshman year, students are asked to select an Academy for their sophomore through senior year.

Personally, I chose the BACH Academy during my freshman year of high school because I was in the Jazz Band and Concert Band, and that Academy included the visual and performing arts. However, sophomore year I decided to switch to HHES because I wanted to go into nursing. The switch was very easy and this academy gave me the opportunity to take a field trip to the UW Madison Nursing School. For the remainder of my sophomore and junior years I took classes that expanded my health and science knowledge to aid me in pursuing a nursing career.

When senior year came around, I decided to switch back into the BACH academy because I wanted to explore business and Spanish. I took an Intro to Marketing course and loved it as well as AP Spanish Language and Cultures. This brought me to the conclusion that I wanted to major in marketing and minor in Spanish. Through the Academy, I also received the opportunity to be the Marketing Intern for the School District of Beloit.

The Academy program offered at Beloit Memorial helped me discover how my interests can be implemented into my future career. The program allows students to explore any kind of career imaginable with the help of Academy principals and other school leaders, as well as with people in our community.
The Collegiate Academy with Blackhawk Technical College
There is also another very important option for students at our high school; the Collegiate Academy.

The Collegiate Academy allows students to take an efficient step forward in their career exploration, while earning a two-year degree or a specialized technical diploma upon graduation from high school.

During 8th grade, students can create a graduation plan with their counselor that matches the field they are interested in. From there, students can build a schedule that sets them up for future success. During their first year in high school, students are expected to maintain excellent grades and attendance in the courses outlined in their graduation plan. In their second year, students can take the ACT aspire test and apply to attend Blackhawk Technical College. During their last two years, students can take courses at Blackhawk Technical College.

The benefits of the Collegiate Academy include significant financial savings. The cost of a two-year degree including textbooks can be as much as $10,000. In the Collegiate Academy all costs are covered by the School District of Beloit. In addition, Blackhawk Technical College graduates have a 94% job placement. Degrees in this program include Automotive Technician, Business Management, Culinary Arts, Early Childhood Education, Foundations of Teacher Education, Pre-Nursing, LPN, and Welding.

I encourage anyone who would like to learn about the many benefits and opportunities available to our high school students including AP courses, athletics, clubs, leadership opportunities, performing and creative arts, and of course the Academies, reach out to Beloit Memorial High School. #GoodThingsHappening.