Return to Headlines
Toys For Tots event helps nearly 600 families in inaugural event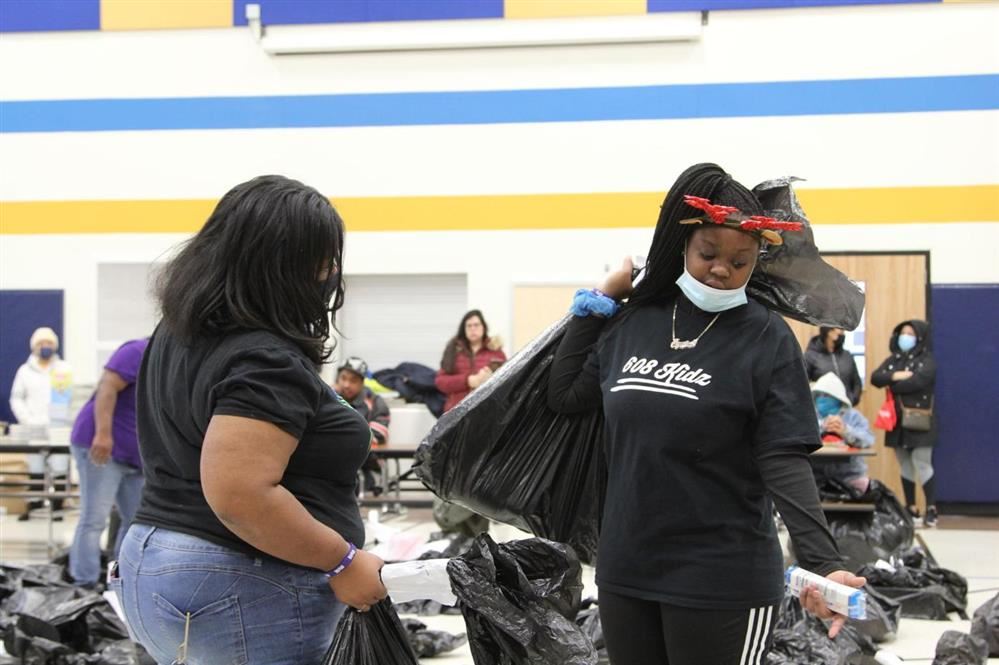 BELOIT—A dozen different organizations and nearly 30 volunteers worked together over the weekend to make the Christmas season brighter for many Rock County families following a Toys For Tots gift distribution event at Merrill Elementary School in Beloit.
The inaugural event put on by Rising Queens, KANDU Industries and 608 KIDZ saw nearly 600 families receive gifts as part of an effort that event organizer and Rising Queens Executive Director Tracy Dumas said "took off like wildfire."
"For me, it's a God blessing, period," Dumas said. "I don't take any credit for this. I owe this to all the organizations that helped make this possible. Without our great partners, we wouldn't be able to do something like this. We took one less worry from people that need that help and gave them something they might not have had. I have so much gratitude. It was amazing."
In September, Dumas traveled to Quantico, Virginia for training from Toys For Tots where she also met with other event organizers from across the country.
"I took what they told me and pieced it together to see how it would work here in Beloit and greater Rock County because this was our first time," Dumas said.
A month later, a benefit event featuring a motorcycle parade and toy drive saw wide support at Riverside Park in Beloit.
Initially, organizers expected to help approximately 300 families, but after the event wrapped up over the weekend, Dumas said 580 Beloit area families in total were able to receive gifts for children of all ages.
"It shows that anything is possible when a community comes together," Dumas said. "I did not expect that we would be able to help so many people."
Beloit-area students also pitched in by volunteering their time to make the toy distribution run smoothly as a group of students with 608 KIDZ worked together to assist Rising Queens and Kandu Industries.
Beloit Memorial High School freshman and 608 KIDZ volunteer X'zavion Voss said the event was the first of community service type of project he'd ever been involved in.
"I like being able to help," Voss said. "We're trying to help everyone have a brighter time during the holidays."
Merrill Elementary School Principal Brandye Hereford said she partnered with Rising Queens due to the direct-action nature of the event.
"They are about action and getting things done," Hereford said. "I think it means a lot for our kids and people don't realize that even at this stage of the pandemic, people are still struggling and they need that help. To be able to provide gifts to people during this time is just amazing."
Dumas said she's already planning how to make next year's toy drive an even bigger success.
"This was trial and error for us but overall I am pleased," Dumas said. "We are going to do it a little bit different next year. Next year is going to be huge."
The following organizations and businesses assisted in this year's event: ABC Supply, Kandu Industries, Burtness Chevrolet of Orfordville, Farm & Fleet, Merrill Elementary School, Home Depot, Caravel Autism Health, Beloit Meals on wheels, Grainger, Masonite, Seiberling-A Haskell Company Beloit and Autumn Lakes nursing home.
Source: Beloit Daily News